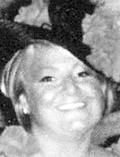 Here is a link to the online obituary and guestbook: http://www.legacy.com/SJ-R/Obituaries.asp?Page=LifeStory&PersonId=117403508
PLAINFIELD - Kimberly Ann Rogers, (nee Hovermale), 41, of Plainfield, formerly of Springfield, died Saturday, Sept. 13, 2008, at her home.
She was born Feb. 25, 1967, in Springfield. Kimberly is survived by her loving husband, Troy; her son, Andrew; her parents, Ron and Donna Hovermale of Springfield; her brother, Todd (Julie) Hovermale of St. Louis; her grandmother, Harriet Taylor of Olney; several aunts and uncles; and many nieces, nephews, cousins and friends.
She was preceded in death by her grandparents, John and Irene Hovermale of Lawrenceville and Lawrence Taylor of Olney. Kimberly was a graduate of Springfield High School and the University of Illinois at Urbana- Champaign, as well as a member of the Delta Delta Delta Sorority.
Kim was a self-employed graphic designer of Hollister Publications of Philadelphia and dedicated her talents in assisting other female-owned business ventures. She was an active member of the Liberty Elementary PTA, the Friends of Lake Mattoon and the Farmstead Ridge Homeowners Association. She served on several boards and led numerous community fundraising efforts with a focus on children and education. Kim also volunteered countless hours with the Plainfield Humane Society.
Per Kim's wish, in lieu of any flowers, please make a donation to the Plainfield Humane Society.
Visitation will be Monday, Sept. 15, 2008, from 4 to 8 p.m. at Overman-Jones Funeral Home in Plainfield. Funeral services will be Tuesday, Sept. 16, 2008, at 10:30 a.m. at the funeral home, with Pastor Josh Cook officiating. Internment will follow at St. Mary Immaculate Cemetery in Plainfield.
Overman-Jones Funeral Home, 15219 S. Joliet Road, corner of routes 30 and 59, Plainfield, IL 60544. Information, (815) 436-9221 or www.overmanjones.com.